Flatiron Holiday Gift Guide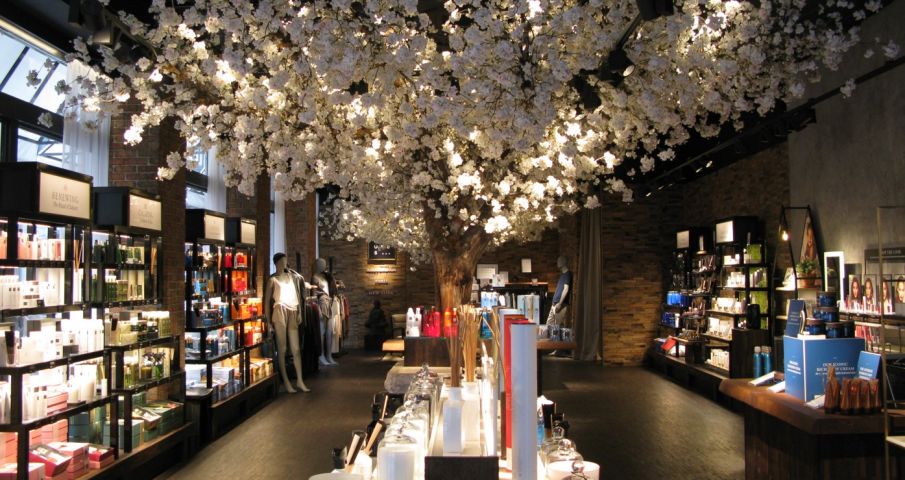 Spread holiday cheer to friends and family with unique gifts from local Flatiron Shops. We've put together a gift guide for the holidays featuring a wide range of gift ideas such as children's toys, apparel, books, cameras, and unique food baskets. Please contact businesses directly for more information. Happy Shopping!
Bourke Street Bakery, 15 East 28th Street, 917-675-6394
From the brains behind the famed Australian Bakery, grab Chef Paul Allam's book on baked goods All Things Sweet. The bakery will write a personalized message for you signed by Allam, add a Bourke Street bread tote bag, and wrap it up beautifully with a bow. 

Eataly, 200 Fifth Avenue, between 23rd and 24th Streets, (212) 229-2560
For aspiring cooks or the general lovers of good food, Eataly has a selection of products that make a great gift such as festively wrapped cakes, decadent Italian chocolates, fresh pasta, pesto and tomato sauces, olive oils, and kitchen equipment. You can grab one-off items for the perfect meal, or pick-out a holiday gift basket.
Flying Tiger, 920 Broadway, corner of 21st Street, (212) 777-1239
Flying Tiger is packed with little trinkets and quirky holiday treats, clothing, and ornaments. At Flying Tiger, you can spread holiday joy without breaking the bank with gifts starting at just $1.
Fujifilm Wonder Photo Shop, 176 Fifth Avenue, between 22nd and 23rd Streets, (929) 239-4262
Create personalized photo gifts (prints, mugs, blankets) and wall decor, or pick up an Instax camera for film photos that develop instantly. Fujifilm's X Series mirrorless cameras are also available. Fujifilm's Instax Mini Link Smartphone printer that easily prints film pictures directly from your phone is a great gift for anyone.
Fotografiska New York Gift Shop, 281 Park Ave South at 22nd Street
Thew newly opened photography museum based on the world-renowned Stockholm institution, features a ground-floor gift shop with photography-related books, art-work inspired skateboards, candles, and gifts based on the current exhibitions.
Honeybrains, 34 West 22nd Street, (917) 472-7682
The cafe focused on brain health sells a wide variety of raw honey jars from around the world that make the perfect specialty gift for tea and coffee lovers.
Il Fiorista, 17 West 26th Street between Broadway and Sixth Avenue, (646) 490-82409
The restaurant serving up dishes and drinks featuring flowers in their edible forms also has an in-house floral boutique with one-of-a-kind products like their very own bottled sugars, flowers, herbs, spice mixes, and salts.
INSCAPE, 45 West 21st Street, between Fifth and Sixth Avenue
The meditation center Inscape features a storefront wellness shop offering products like essential oils, calming teas, and candles. You can specifically pick products that target better sleep, stress relief, or an energy boost.
The LEGO Store, 200 Fifth Avenue, corner of 23rd Street, (212) 255-3217
For kids and kids at heart, shake up your imagination with holiday gifts from LEGO. Top holiday gifts include elaborate Harry Potter, Disney, and Superhero themed sets. LEGO's smaller figurines and key chains also make perfect stocking stuffers.
Rituals, 172 Fifth Avenue, corner of 22nd Street, (646) 918-7383
Rituals' suite of shower products, foaming shower gels, candles, and oils make for a gift anyone would be excited to unwrap. Holiday Gift sets for him or her are also available.
Rizzoli Bookstore, 1133 Broadway, between 25th and 26th Streets, (212) 759-2424
For the book lovers in your life, Rizzoli offers a wide collection of books from photography and design, to sports and foreign literature.
Silver Mirror Facial Bar, 20 West 22nd Street, (212) 702-8742
Treat a loved one to some pampering at highly-specialized, results-driven Silver Mirror Facial Bar. Silver Mirror offers a variety of facial treatments, and the shop features a storefront boutique with facial products perfect for holiday gifting.
Space Kiddets, 26 East 22nd Street, between Broadway and Park Avenue South, (212) 420-9878
Space Kiddets is a children's boutique with a funky vibe offering a one-of-a-kind selection of holiday toys and apparel.
sundays, 51 East 25th Street, between Madison Avenue and Park Avenue South, (646) 998-5711
Gift a mani/pedi at the non-toxic nail salon, or shop products like sundays' selection of non-toxic, vegan, and cruelty-free formula nail polishes. 

Todd Snyder, 25 East 26th Street, between Fifth Avenue and Madison Avenue, (917) 242-3482
Head over to Todd Snyder to shop for men's apparel, shoes, and accessories. Have your pick of gifts like cashmere crew shirts, watches, leather gloves, and wool scarves.
The White Company, 155 Fifth Avenue, between Broadway and Fifth Avenue, (646) 741-8777
The White Company offers a curated selection of stylish clothing and home goods. Think cashmere socks, plushy robes, silk sleepwear, fleece blankets, and intoxicating candles.
Photo: Rituals