New Neighbor: Om Juice Bar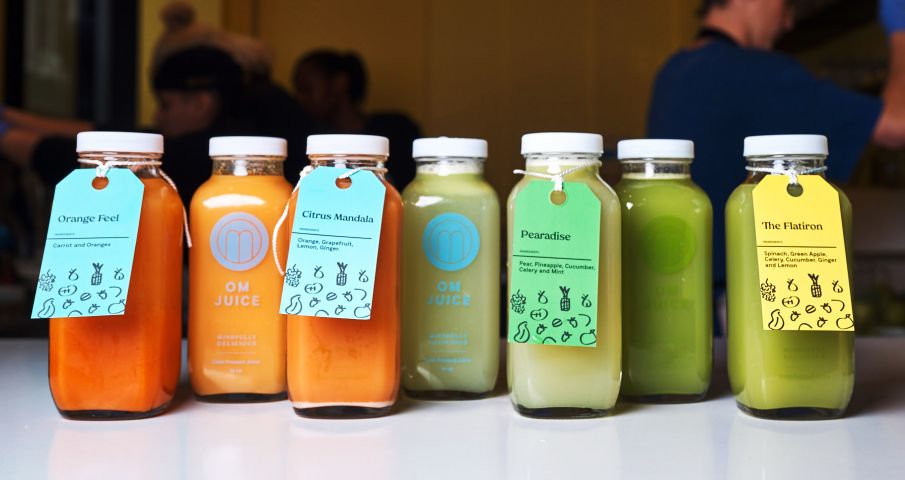 The Flatiron Partnership welcomes Om Juice Bar to the neighborhood at 62 Madison Avenue at the corner of 27th Street bring good vibes and good-for-you food. With a strong eye for freshness and health, Om Juice Bar touts its juices as mindfully delicious made with organic produce and cold-pressed to order. The Bar's menu also features a selection of nutritious smoothies, fruit-based bowls, and avocado toast.
Inspired by a meditation retreat, Om Juice Bar's founder Anastasia Kulinich felt compelled to open her own juice bar after experiencing the wellness benefits of adopting a plant-based diet herself. With the intention of not cutting corners with truly nutritious ingredients, Om is committed to offering organic, vegan, wholesome juices and foods.
"I'm so excited to open my first NYC business in the beautiful Flatiron neighborhood. I chose this area because it has a dynamic mix of offices, restaurants, fitness studios, residents, visitors, and parks" said Kulinich. "Already, I have heard from so many guests that they are very happy for a new juice bar here. I'm thrilled that we can offer our fresh juice to everyone."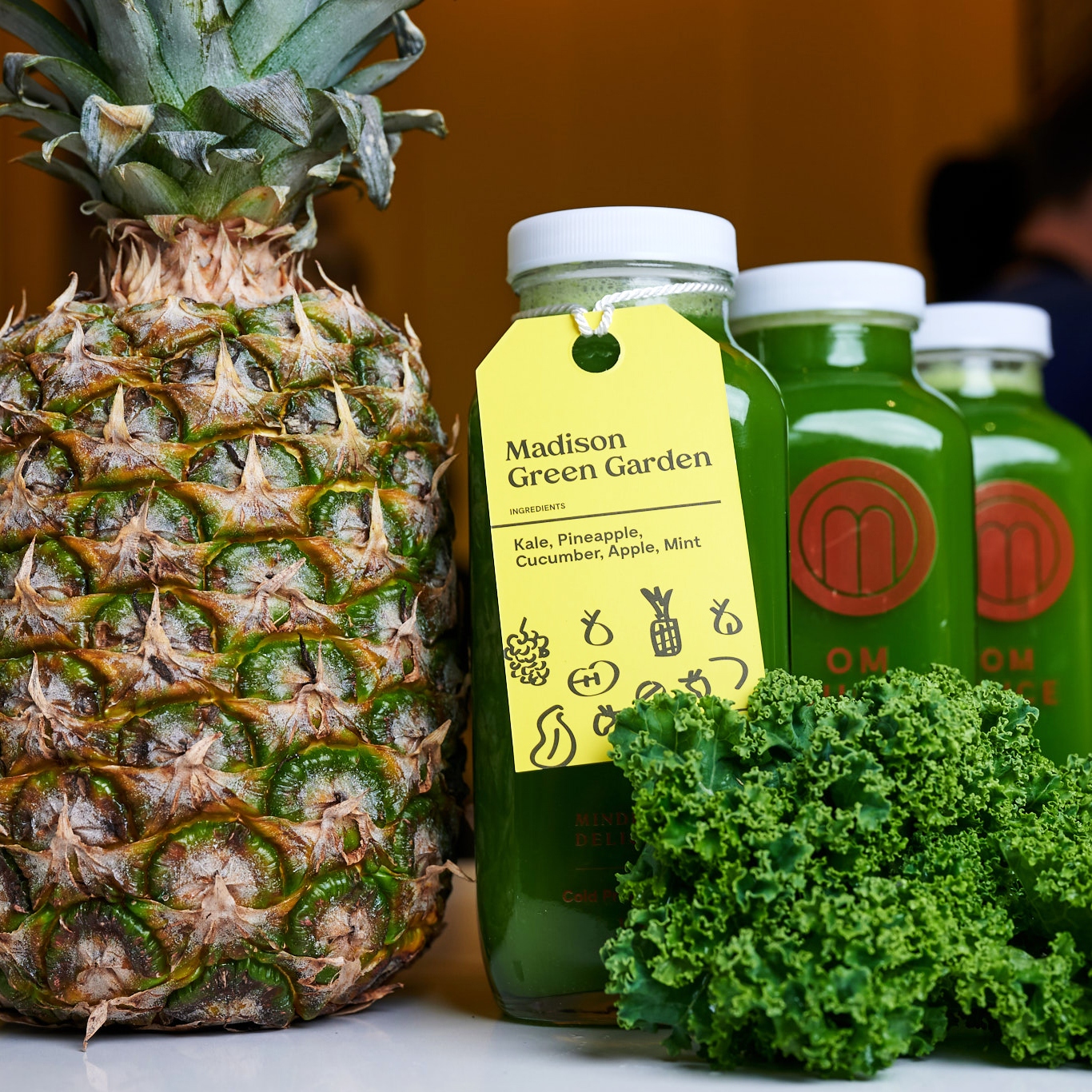 You have your pick of eight different juices at Om crafted to replenish and revitalize without any hidden ingredients or questionable additives. Calling upon its location, the "Flatiron" juice is made with spinach, green apple, celery, cucumber, ginger, and lemon, and the "Madison Green Garden" is made with kale, pineapple, cucumber, and apple. Several other juices feature citrus, carrot, and apple flavors. All juices are served in fully recyclable glass bottles. Bring back your bottles to reuse and you will receive $1 off of your next juice purchase!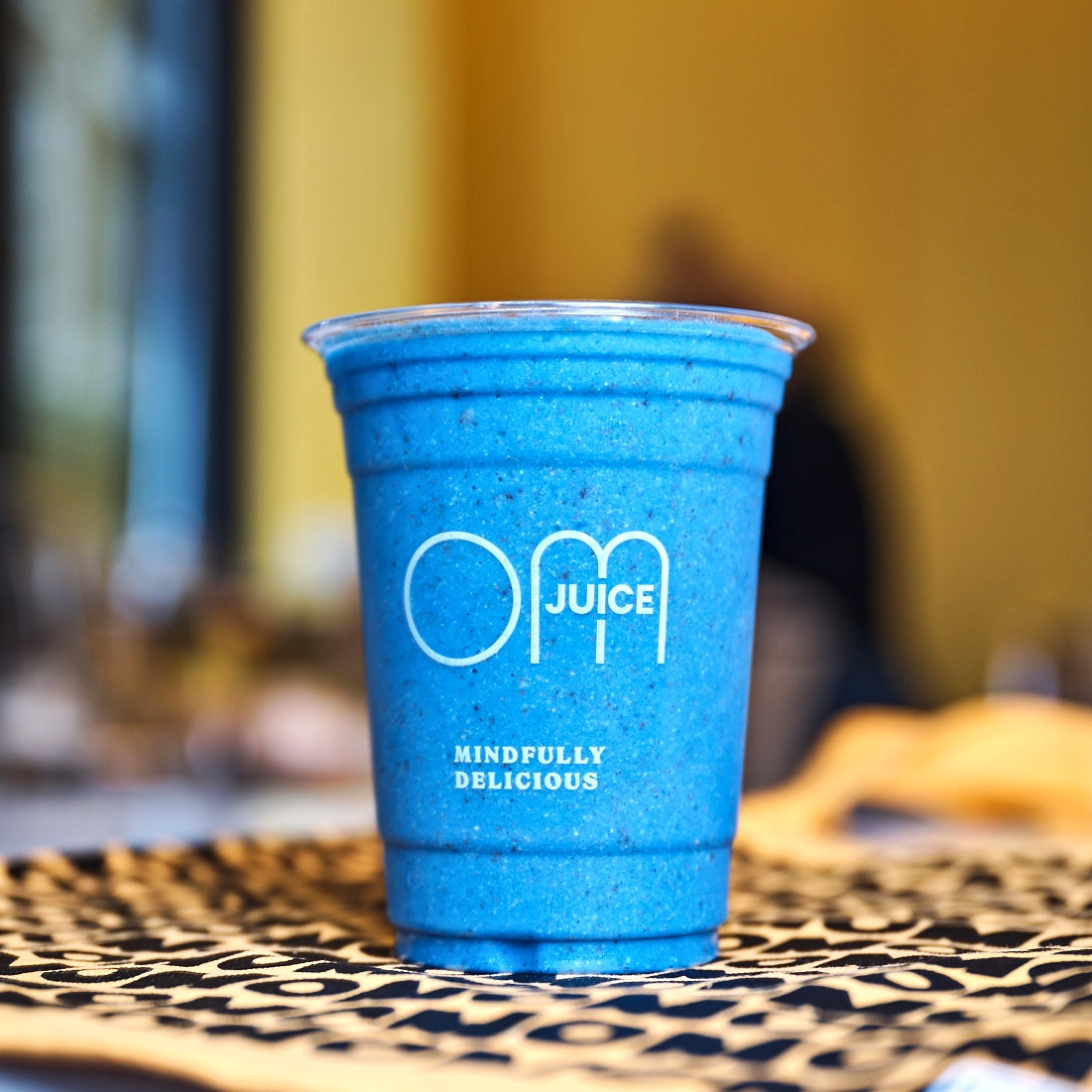 A wide variety of plant-based milks and proteins, spices, seeds, and fresh fruits are used to create nine different smoothies. The "Deep Blue" smoothie described by a google reviewer as "the most unique smoothie of [his] life" is made with coconut milk, cashews, chia seeds, banana, dates, blue spirulina, ginger and sea salt. A classic favorite flavor, the "Mint Chocolate Chip" blends together banana, cacao powder, chia seeds, hemp seeds, dates, mint, cacao nibs, sea salt, and almond milk.
Om's three smoothie bowls are made with fresh fruits, and healthy nuts and seeds. The "Happy Bowl" is made with banana, strawberries, acai, dates, oat milk, and sea salt, topped with banana, strawberries, granola, and coconut flakes. And what appears to be a fan-favorite online, the "Blue Lagoon" bowl is made with banana, mango, pineapple, dates, blue majik, sea salt, almond milk, topped with pear, granola, and chia seeds.
Om also serves a variety of hot drinks including espresso, americano, cappuccino, matcha latte, and golden latte.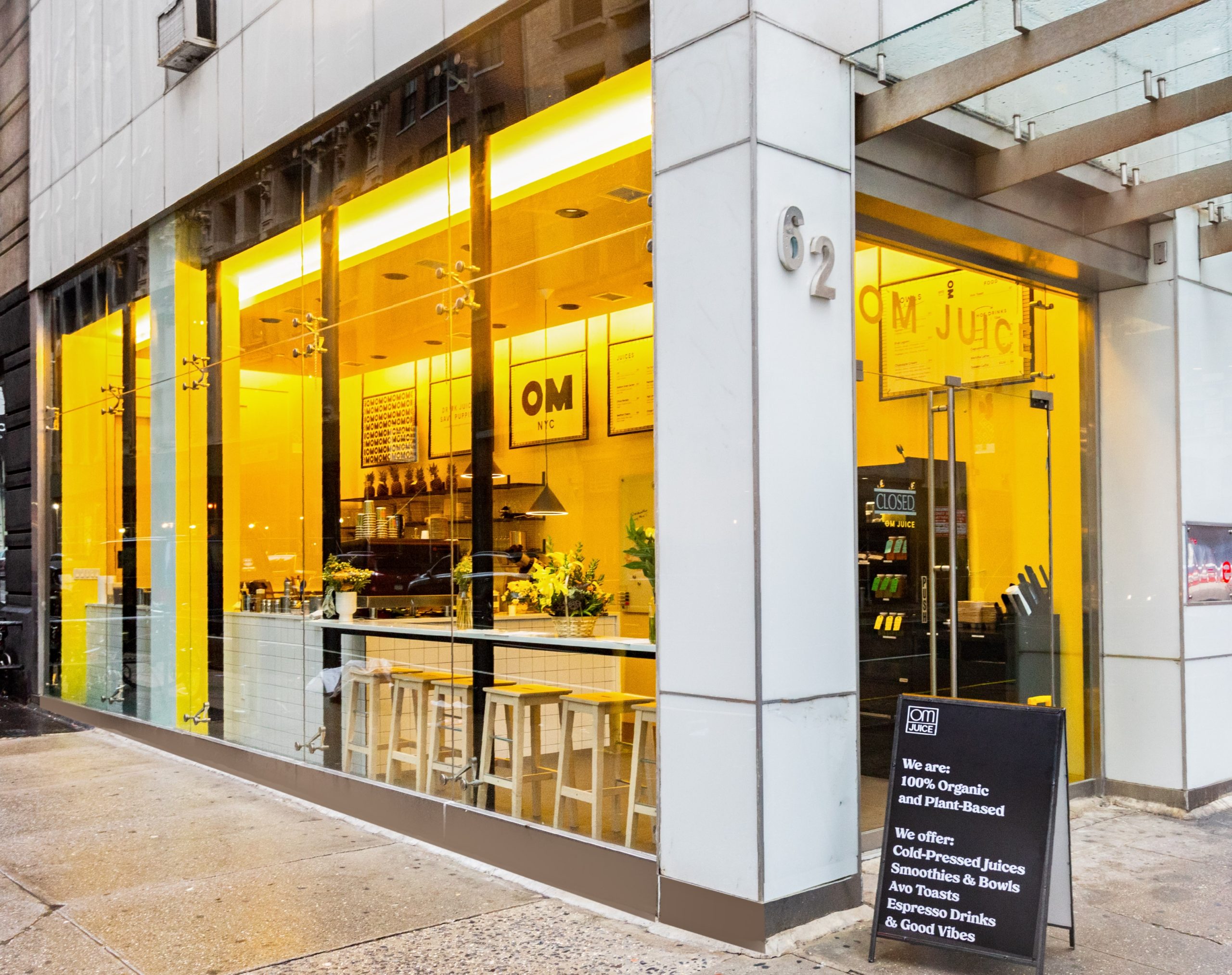 When it comes to the Bar's space, the brightly lit shop with bold yellow walls elicits a feel-good feeling upon entering. A stocked grab-and-go cooler at the front allows for quick pick-ups on the run. Each month, the shop will donate 1% of all sales to local animal rescue organizations.
As Flatiron continues to develop as a hub of health and wellness in New York City, we are excited to have Om Juice Bar in the district.
Om Juice Bar is open daily from 8 am to 7 pm.
Om Juice Bar, 62 Madison Avenue, 917-409-5900, @omjuicebarnyc