Flatiron Foodie: maman's Espresso Chocolate Granola Bar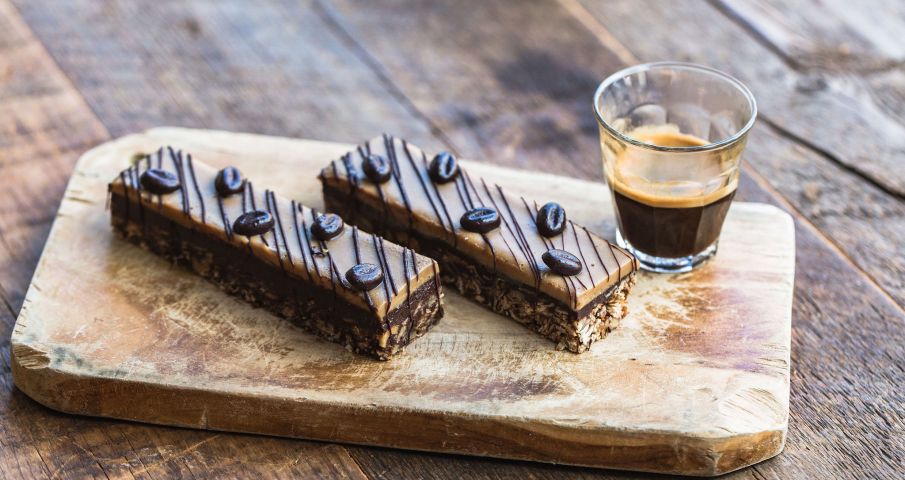 maman is a café and bakery bringing both sweet and savory childhood favorites of its founders. Benjamin Sormonte and Elisa Marshall, to life. Inspired by recipes from their mothers, the menu calls on cuisine from the south of France and North America. Their dishes focus on quality, locally sourced ingredients and highlight twists on classic French techniques. Whether its lavender hot chocolate, fan-favorite nutty chocolate chip cookies, or homemade soup and grilled cheese, maman is a spot to find comfort in during this cold season.
For this week's Flatiron Foodie, maman shares their recipe for a decadent holiday treat that's a perfect pairing with a morning coffee or a sweet bite alongside any meal. The Espresso Chocolate Granola  Bar is made with a nutty, coconut granola base with a silky chocolate ganache center topped with a velvety, coffee-flavored ganache layer. Enjoy!
maman's Espresso Chocolate Granola Bar At-Home Recipe
Ingredients
Granola Base:
3 cups Gluten-free oats
¾ cup Walnuts
½ cup Pecans
1 ¼ tbsp Shredded coconut
½ tbsp Salt
1/3 cup + 2 tbsp Almond butter
2 tbsp Sunflower oil
1.5 tbsp Maple syrup
1 tsp Ground cinnamon
1 tbsp Coffee extract
1 ¼ tbsp Coffee grounds
Chocolate Ganache:
¾ cup Dark chocolate
1 cup Heavy cream
2 ¼ tbsp Butter
Coffee Ganache:
1 ¾ cup White chocolate
5 fl oz Heavy Cream
3 tbsp Butter
½ tbsp Coffee extract
Directions
Make the granola:
Mix all the dry ingredients together in a large bowl.
In a medium-sized bowl or the bowl of a KitchenAid, mix together all of the wet ingredients with the coffee grounds.
Pour wet mixture over dry mixture and mix until everything is combined
Then pour onto a sheet pan with wax paper and spread into an even layer.
Bake at 300°F for 12 minutes.
Stir to break up any large chunks and put back into the oven for 3 more minutes.
Take out of the oven and set aside to cool. Do not refrigerate.
Assemble the Granola Bar :
Step 1: Make the granola bar base.
In a bowl, mix granola with ½ cup of melted butter
Pour into a 9-inch ring on a plate or sheet pan that has been lined with parchment for easy removal (make sure it can fit in your fridge or freezer).
Press granola mixture into the ring with a flat, metal spatula to flatten the base. Make sure this is pressed well around the edges so that your ganache doesn't leak through the mold.
Place it in the fridge for 3 hours or the freezer for 1 hour to harden.
Step 2: Make the chocolate ganache.
Melt dark chocolate in the microwave or with a double boiler.
In a separate pot, bring heavy cream to a boil.
Pour heavy cream over the melted dark chocolate and whisk until smooth.
Cut butter into small pieces and add them into the ganache mixture.
Mix until the butter is fully incorporated.
Pour over the granola base.
Place in the fridge for one hour or until set.
Step 3: Make the coffee ganache
Melt white chocolate in the microwave or with a double boiler.
Bring heavy cream and coffee extract to a boil.
Pour heated coffee-flavored heavy cream over the white chocolate and whisk until smooth.
Cut butter into small pieces and mix in butter.
Pour into the 9-inch ring on top of the chocolate ganache.
Spread coffee ganache to make an even layer.
Place in the fridge overnight.
Lastly, decorate the slices, cut into bars or bite-size pieces, and enjoy! We like to decorate ours with drizzled chocolate and chocolate-covered espresso beans.
Pictured below: maman's Pastry Chef Jean Louis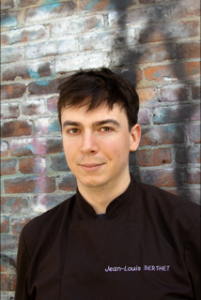 maman, 22 West 25th Street, between Broadway and Sixth Avenue, @_maman_nyc