Flatiron NoMad Partnership's 16th Annual Meeting Recap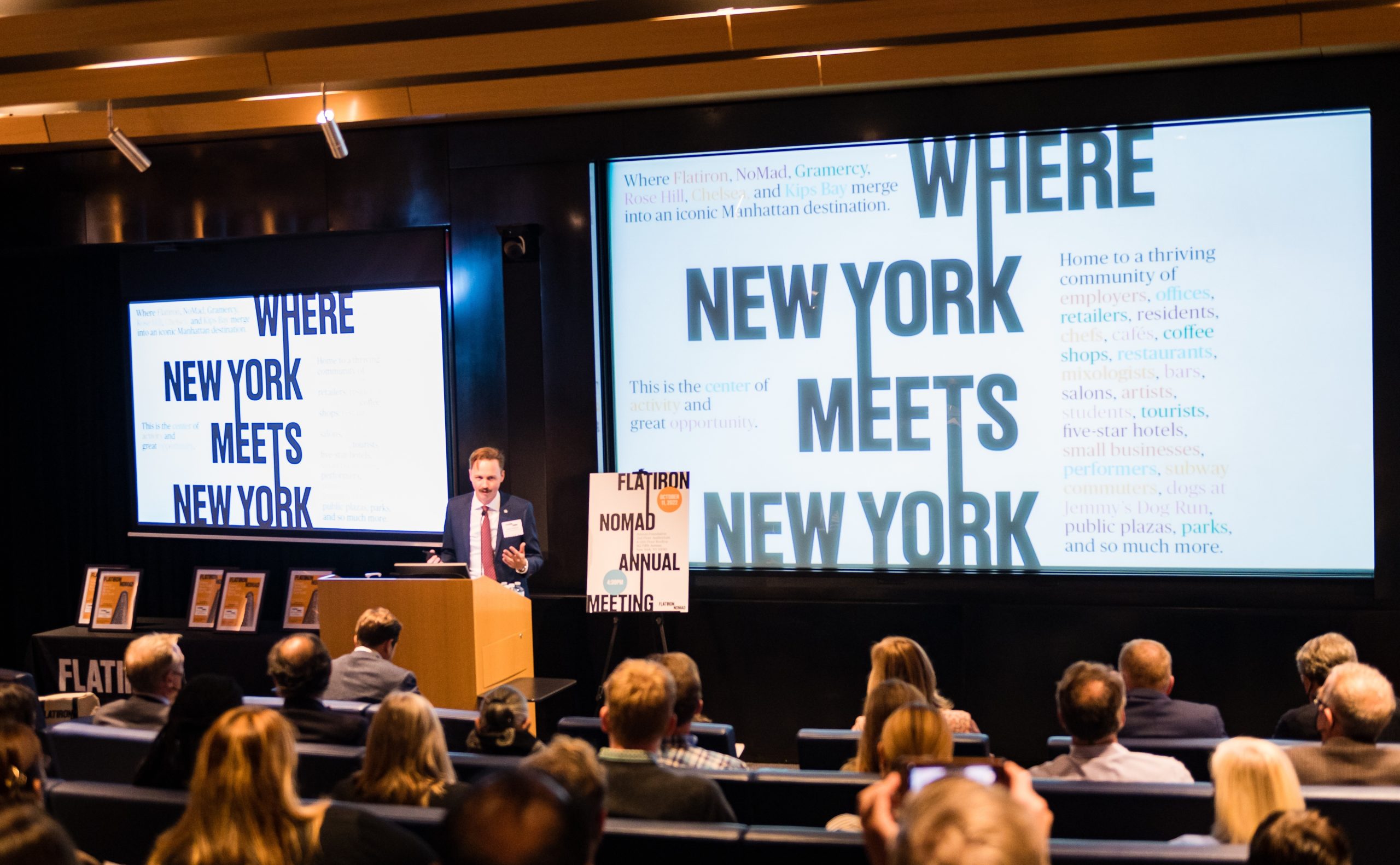 The Flatiron NoMad Partnership held our 16th Annual Meeting & Community Reception on Tuesday, October 11 at the Simons Foundation (162 Fifth Avenue), sharing the work we have started as a newly expanded business improvement district (BID) and celebrating our dynamic Flatiron and NoMad communities.
Partnership president James Mettham delivered a "state of the district" presentation highlighting the neighborhood's economic resilience and growing status as a premiere destination for visitors, businesses, employees, and residents. The presentation featured key data, including visitor foot traffic that has increased to nearly 80% of pre-pandemic levels; office leasing that is now outpacing 2019 numbers; and new business openings that total nearly 200 since March 2020.
Mettham detailed the impact of our sanitation, public safety, social services, public realm enhancements, and marketing programs—which reach a footprint that nearly doubled in size with our BID expansion in January 2022.  On our new blocks alone, our teams have collected 50,000 bags of trash; removed graffiti from 5,000 surfaces; and scraped, cleaned, and painted more than 18,000 pieces of public furniture and street assets.
"We take pride in being stewards of one of New York City's largest business improvement districts," Mettham said. "Together with our stakeholders and partners in government, we have continued to facilitate economic growth in Flatiron and NoMad, while enhancing our neighborhood's status as a world-class destination."
The event was our first annual meeting under the name Flatiron NoMad Partnership, part of the new branding we unveiled in June 2022, along with a new information-rich website, FlatironNoMad.nyc.
The proceedings began with remarks from Simons Foundation president, Dr. David Spergel, and Partnership board treasurer, Jason Vacker, welcoming 155 attendees, as well as viewers who tuned in remotely via Zoom. Additional speakers included New York State Senator Liz Krueger, Manhattan Borough President Mark Levine, and New York City Council Members Carlina Rivera, Keith Powers, and Erik Bottcher—each of whom expressed gratitude for the Partnership's work and pledged their continued support.
After electing members to our Board of Directors and approving the FY 2023 budget, we presented our annual awards. Recipients included Kristi Forbes of Rudin Management/Forty-One Madison (Robert B. Frankel Chairperson's Award); Thomas Cooke of ATCO Properties & Management, Inc. (Robert B. Frankel Chairperson's Award); the Simons Foundation (Partnership Award); Malik Reeves of Urban Pathways (Outstanding Service Award); and Colleen Chattergoon of the New York City Department of Transportation (Outstanding Service Award).
The program was followed by a community networking and cocktail reception on the Simons Foundation's rooftop, catered by Thomas Preti.
View: