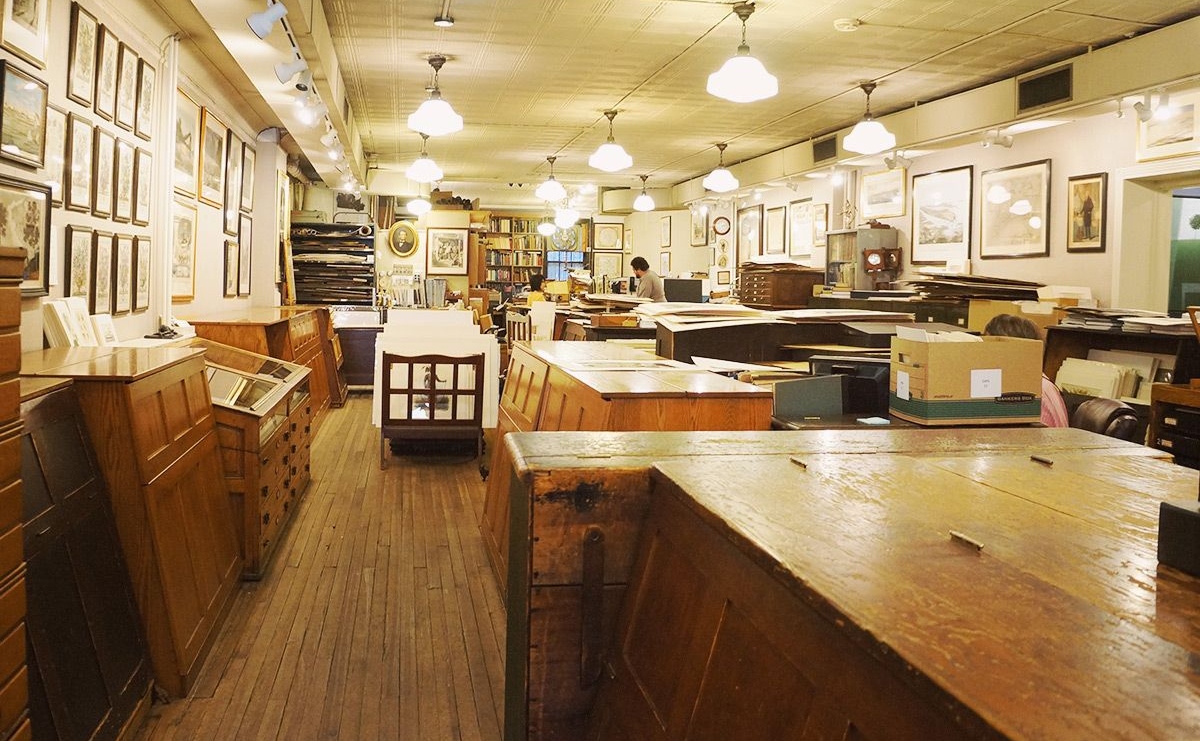 In observance of Presidents' Day on February 20th, we're highlighting the historic connection between The White House and The Old Print Shop at 49 West 24th Street. The family-owned art gallery has been in existence for 125 years, and specializes in collections of centuries-old American graphic arts, antiquarian maps, and atlases.
Established in 1898, the Old Print Shop was founded by Americana art dealer Edward Gottschalk. The business was initially located in the back of Wanamaker's department store on Fourth Avenue between 9th and 10th Streets before relocating to a nearby storefront. At that time, the community was considered "the center of the second-hand book business, and lovers of old books were often lovers of old prints as well," according to The Historic Shops & Restaurants of New York by Ellen Williams and Steve Radlauer.
In 1925, Gottschalk moved the shop to 150 Lexington Avenue near 30th Street. That same year, he received a letter from future U.S. President Franklin Delano Roosevelt who had served as Assistant Secretary of the Navy during Woodrow Wilson's administration from 1913-1920. Roosevelt had been diagnosed with polio in 1921, and he sent a letter to Gottschalk requesting 100 prints of American scenery to frame as a form of rehabilitation therapy. "I need occupation for my hands," wrote Roosevelt, "and have gone with the business of framing pictures!"
Roosevelt would later make "a much-heralded visit to the shop soon after he was elected in 1932," reported The New York Times on September 15, 2022. "He bought a Currier & lves portfolio to hang in the Oval Office." The gallery was now operated by a seller and buyer for Gottschalk, Harry Shaw Newman, following the owner's death in 1928. According to The Historic Shops & Restaurants of New York, Newman was "a young man who had fallen in love with prints after discovering a cache of Currier & Ives in his grandmother's attic." He became known as the "Prince of Prints" and "Mr. Americana." Under Newman's ownership, U.S. President and Navy veteran John F. Kennedy reportedly purchased naval prints from the shop.
Today, The Old Print Shop is operated by Newman's grandsons Robert and Harry and features an inventory that includes portraits of past American presidents. Images include an 1866 wood engraving of Abraham Lincoln, a 1909 photogravure of Flatiron District native Theodore Roosevelt, and etchings of architectural landmark properties such as the Flatiron Building.
In the fall of 2022, The Old Print Shop relocated to 49 West 24th Street. "A developer had purchased a sizeable stake on the block, which would have left my little brownstone sandwiched between two larger buildings," Robert Newman told Antiques and the Arts Weekly on September 13, 2022. "After a lot of soul-searching Harry and I decided it was better to sell and move, than stay and have the value of our building decreased as it would not be a developable lot. Today we are looking forward to writing a new chapter in The Old Print Shop's history."
Header & Thumbnail Photo Credit: The Old Print Shop via On the Grid