Flatiron Foodie: Scampi's Burrata & Delicata Squash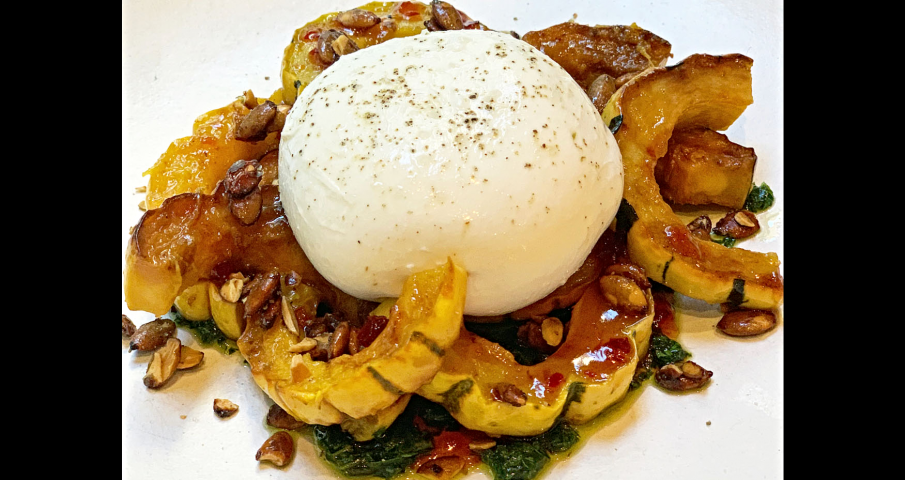 Perfect for a crowd-pleasing holiday appetizer, Scampi shares their newest seasonal side with us: The Burrata & Delicata Squash. Owner & Executive Chef PJ Calapa walks us through how to make this dish featuring a fresh basil pesto, baked squash, and hot honey for a sweet kick.
Scampi serves Southern Italian inspired-cuisine with an emphasis on delicious seafood. Seasonal, market-driven ingredients are used in each and every dish guaranteeing freshness and flavor. Check out their full menu and make note of their famed Malfaldini Scampi Pasta. Don't worry, we have the recipe for that too if you want to treat yourself to a full Scampi meal experience.
Scampi, located at 30 West 18th Street, is open for indoor dining, pick-up, and delivery from 5 pm to 9 pm, Tuesday to Thursday, and 5 pm to 9:30 pm Friday and Saturday.
Burrata & Delicata Squash Recipe
Ingredients:
4 oz piece of Burrata
1 Delicata Squash, Sliced into half-moons & deseeded
1/4 cup Pumpkin Seeds
  Basil Pesto:

3 cups of fresh basil leaves
2 tablespoons of Extra Virgin Olive Oil
1/4 cup Parmesan Cheese
1/3 teaspoon Red Pepper Chili Flakes
Hot Honey:
1/3 cup honey
1/3 teaspoon Red pepper Chili Flakes
2 tablespoons of Red Wine Vinegar

Directions:
For the Basil Pesto, bring water to boil, blanch the basil leaves until wilted (about 15 seconds), then quickly place into an ice bath to cool. Squeeze all water out from basil and blend with Extra Virgin Olive Oil, Parmesan, and Red Pepper Chili Flakes in a food processor until smooth.
For the Hot Honey, cook and reduce the honey by 1/3 then add Red Pepper Chili Flakes and Red Wine Vinegar, let it cool.
Sauté the Delicata Squash slices in a hot pan on both sides until golden brown then finish it in the oven until cooked through.
Toast the Pumpkin Seeds in butter and salt.
To assemble, carefully remove Burrata from water and drain, season the Burrata with Extra Virgin Olive Oil, Salt, and Black Pepper.
Grab your plate and place the Basil Pesto in the center, carefully put the Burrata in the center and cut into four pieces.
Remove the Delicata Squash from the oven while hot and dress it with the hot honey, place the Delicata Squash around Burrata.
Drizzle a little more hot honey onto the Burrata and top it all with Pumpkin seeds.
Enjoy!
Executive Chef PJ Calpa pictured below: