Flatiron Foodies: Trattoria Italienne's Cotechino (Italian Sausage)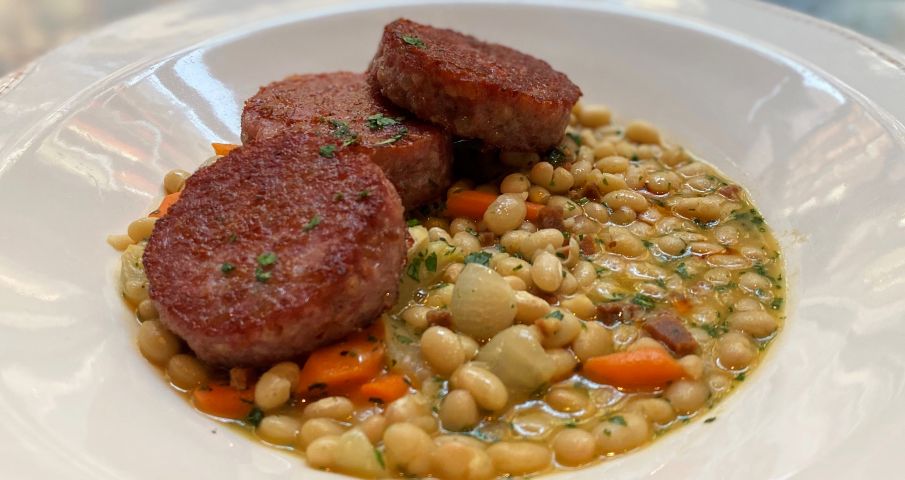 Blending Italian heart and soul with French elegance and refinement, Trattoria Italienne serves classic dishes from Northern Italy & Southern France served à la carte and in tasting menus with regional wine pairings. Founded in 2016 by Chef Jared Sippel, the cuisine highlights seasonal ingredients and focuses on close relationships with purveyors.
Chef Sippel shares his recipe for a classic holiday dish in Italy, Cotechino, a slow-cooked Italian pork sausage. Italians traditionally eat this hearty dish on New Year's Eve to bring good fortune and abundance in the new year. The richly seasoned sausage is typically served on a bed of lentils or beans. Chef Sippel's take on the dish is a blend of pork shoulder, pork skin, and fatback flavored with seasonal spices like cloves, cinnamon, and nutmeg. Enjoy these coin-shaped legumes to bring you prosperity in 2020.
Cotechino Recipe:
Ingredients: 
5 pounds leaned pork shoulder
1.75 pounds fat back
3.3 pounds of pork skin
80 grams of salt
18 grams of dextrose
9 grams of black pepper
7 grams #1 curing salt
1 gram of coriander
1 gram of cloves
1 gram of cinnamon
1 gram of cayenne
.5 grams of mace
.5 grams of nutmeg
Recipe: 
1. Blanch the pork skin for 7 minutes and shock in ice water. Then cut into large dice and set aside.
2. Combine all meat, fat, skin and spices, and allow them to sit together for a while to marinate.
3. Grind everything with a 3/8 plate or the medium size plate on your meat grinder.
4. Wrap in 21oz. logs in plastic tightly.
5. Poach to an internal temp of 180 degrees Fahrenheit in simmering water.  Then shock in ice water to set the sausage.  Once cold the Cotechino is ready to eat.
6. Sear the coins of sausage and serve over beans.
Pictured Below: Chef Jared Sippel